The Global Wildfire ABBA Fire Product
The experimental Wildfire Automated Biomass Burning Algorithm (WFABBA) is currently generating fire data across the globe. The WFABBA is an extension of the ABBA. The geostationary NOAA weather satellite GOES-13/-14 (GOES-East) provides coverage for North and South America, and GOES-15 (GOES-W) covers North America. The European satellite, Meteosat-9/-10, operated by EUMETSAT covers Europe and Africa. The Japanese MTSAT-1R/-2, operated by JMA and Korean COMS operated by KMA, covers Asia and Australia.
The WFABBA imagery can be generated using the fire mask product that at the assignes a mask code to every pixel. The resulting ilustration shows the extent of coverage, where fires are found, and possible reasons fires might not have been found (i.e. clouds, bad or missing data). Each image time can be navigated using tools to zoom and pan across areas of interest. Note that the fires are enlarged to enhance visibility. A daily animation of all image times is also available.
The results from the WFABBA are typically available within 90 minutes of the satellite scan time. The output can be viewed in different ways. Using an interactive composite interface showing fire activity from today and yesterday using Google Earth and Google Map interfaces.
Fires from the WFABBA are divided into six categories: processed fire, saturated fire pixel, cloudy fire pixel, high possibility fire pixel, medium possibility fire pixel, and low possibility fire pixel. Data noise, extremely hot surfaces, and sometimes cloud shadows can give false alarms for fires. The vast majority of processed fire pixels are not false alarms.


Links to Fire Mask Imagery
Links to Google Composite Interface
Link to Global gridded fire overlay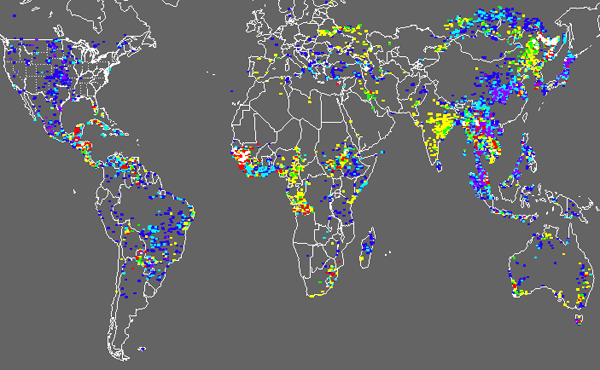 Global gridded fire overlay from today, yesterday, and the day before yesterday